Special Ongoing Issue
Mushroom Pictures from the East
by Herman Brown
herman@fungi-zette.com
Back to SPECIAL ISSUES
page 1 | page 2 | page 3 | page 4 | page 5

Contents:
Comment: I had recently received some mushroom pictures and a note from Andy Neice, asking me for the possible ID of the mushrooms. I had to get help on the ID, but after getting Andy's offer to send more pictures as he found them on his rides, I decided to make a page just for some of the pictures taken from the area. John Plischke III had sent me some of his colorful pictures years ago, so I began the page with those.
- Herman Brown, 8/17/2003
This page will be updated as I receive more pictures. Enjoy!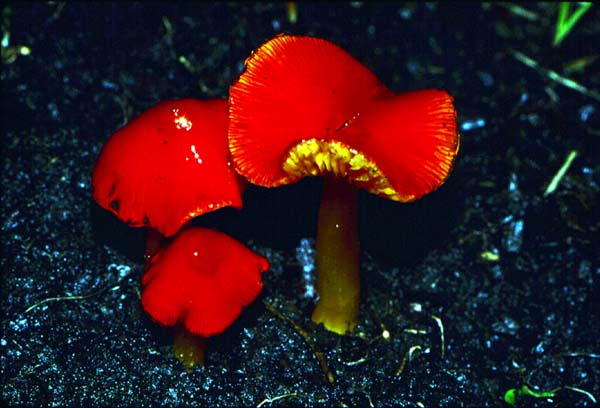 Waxy caps, from John Plischke III, Pittsburgh, PA

Ling Chih (Ganoderma lucidum)
from John Plischke III


Dryad's Saddle (Polyporus squamosus)
from John Plischke III


Hygrophorus miniata from John Plischke III


A young Old Man of the Woods
(Stobilomyces floccopus) from John Plischke III


Laetiporus cincinnatus, from Andy Neice, found by the side of the road in
Giles County, Virginia.

Note from John Plischke III: "...Some older books will call it Laetiporus sulphureus
var. alba. Every time I find one of them, they are always growing in a rosette.
The pores are often whitish-looking but never yellow. I have eaten it many times
here in Pennsylvania."


Laetiporus cincinnatus, from Karen, NJ
Click on the picture to see a larger image

Hi: I found this mushroom next to my driveway after an unusually wet month of June. I live in southern New Jersey. It looks to similar to the Laetiporus cincinnatus that was pictured on your web site. We've got several was wondering if you could positively identify it for me. We've got several different mushrooms popping up all over the yard, which is quite woodsy.

Karen
Dorchester, NJ

page 1 | page 2 | page 3 | page 4 | page 5