Below are most of the recipes from the Fungi-zette web site.
Contents
Issue 1: Morel Soup (top)
From an article "The Hunt, The Quarry, and the Skillet" by Angelo M. Pellegrinin (in The New Wild Savory Mushroom, University of Washington Press):
I consulted the cookbooks, only to discover that only one included a recipe for mushroom soup, and that not a satisfactory one. So I created my own. I cleaned the morels and cooked them partially in butter and oil with shallots and parsley. Then I creamed them in a blender and finished cooking them in chicken broth, just enough of the broth to yield a dense but nicely fluid soup. The only spice I used was a bit of nutmeg. When the soup had simmered for about fifteen minutes, I put it into quart jars. The yield was eight quarts. No fluid was used, no filler, no thickening agent. The density and substance of the soup were produced by the abundance of morels. And in that state the soup was frozen. A rich cream, about a cup for each quart, would be added later when the soup was thawed and heated for serving. One might also add a bit of dry sherry, but sherry must never be used unless it is dry and of superior quality.
Issue 2: Chanterelles with Chicken (top)
The following is a recipe I received as a gift while in Santa Barbara. We used it for my first sack of chanterelles, which I also received as a gift:
2 cups sliced chanterelles
1 whole chicken (cut into pieces)
2 - 3 tbs. butter
2 cloves garlic, sliced
1 c sliced onions (optional)
1 - 2 c wine or sherry
Sour cream (optional)
Brown the chicken with salt and pepper and set aside.
Sauté mushrooms for about 10 minutes in butter, garlic, onions, and wine or sherry.
Put chicken in a baking dish and pour mushroom mixture over the top of the chicken.
Bake at 350ºF for about 45 minutes to an hour. If desired, top with sour cream before serving.
Issue 3 (1): Mushroom Strudel, from Cecelia Brown (top)
This is one of our favorite recipes that we use traditionally as a side dish for Thanksgiving Day dinners. This year we used chanterelles for the mushrooms. The dish came out tasting very good!

(4 strudels, 24 servings)

2 lbs. mushrooms, chopped (approx. 9 cups)
2 onions, sliced thin
3 ½ sticks butter
¼ c dry sherry
½ tbs. salt
1/8 tsp. black pepper
4 tbs. parsley
4 oz. chives, chopped
1 c sour cream
1 c bread crumbs
1 lb. package filo dough

Melt 1 ½ sticks butter in a large skillet. Add onions and garlic, cook for 2 minutes, then add chopped mushrooms and sauté for 3-5 minutes until soft. Note: chanterelles take a little bit longer. Add sherry and continue cooking until liquid has evaporated. Add salt, pepper, parsley, and chives. Stir in sour cream and continue cooking over low heat until mixture has thickened. Melt remaining butter. Remove the filo dough from the package. Working quickly, put one leaf of the dough on a folded, dampened towel. Paint to the edges with butter. Sprinkle with 2-3 tablespoons of bread crumbs. Top with second leaf, paint with butter, sprinkle with bread crumbs, and repeat process with two more filo leaves. At this point you should have four layers of buttered and crumbed filo dough leaves. Place ¼ of the mushroom mixture at the bottom half of the strudel dough leaving a margin at both sides, and fold in sides over mixture. Using the lower corners of the towel drawn tautly, flip the strudel over and over until almost to the end. Paint end of dough with butter and continue rolling until complete. Lift the strudel onto baking sheet and paint with butter. Cover loosely with waxed paper or plastic wrap until completing the other strudels.

Repeat above procedure with remaining dough and mixture. Bake in a moderate oven (375oF) 20 min. or until golden brown. Serve warm.
Issue 3 (2): Magnificent Mushrooms, from The Ultimate Mushroom Book (top)
Magnificent Mushrooms

1 lb. fresh mushrooms, halved
½ c dry vermouth
½ c vegetable oil
1½ c red wine vinegar
1 clove garlic, crushed
2 tbs. onions, chopped
1 tbs. dried basil
½ tsp. salt
½ tsp. pepper
½ tsp. sugar
½ tsp. dry mustard

Put mushrooms in jar. Combine ingredients and mix well. Pour over mushrooms. Seal and store in refrigerator. These will keep several weeks.

There are several other methods that can be used to preserve them, including drying and making them into a powder, by preserving them in salt, by parboiling and freezing them, by cooking and making them into a purée, by boiling them for 45 minutes in a mixture of water, wine, soy sauce, and herbs and extracting the flavorful liquid, and by preserving them in vodka or oil. All of the methods are described in detail in the book, The Ultimate Mushroom Book (pages 130-135), by Peter Jordan and Steven Wheeler, published by SMITHMARK Publishers, Inc.
Issue 4: A Recipe for Cooking Boletes, from John Langenour (top)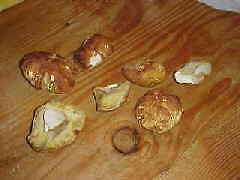 Here is the picture John sent me of some of the boletes that he uses for his recipe (probably B. pinophilus)
I received the following from John Laugenour, who spends much of the non-winter months foraging for mushrooms south of Quincy:
Our favorite way to serve Boletes (Kings) is to slice them 3/8 inch thick, dip them in egg, beer and bread crumbs. We then just brown them in butter, place them on a cookie sheet in a 350 degree oven for 10 minutes. Add salt and pepper to taste.
We serve them with cocktails. They have the texture of oysters. I think you would like them.
Issue 5: Mushroom Tempura, from Michael Wood (top)
Greetings - As many of you know, one of my favorite ways to eat mushrooms is in the form of Tempura. Last night I cooked two of the species that I have only tried a couple of times before. This was the first time I had tried these as Tempura. The two species were Rozites caperatus and Suillus tomentosus. The Rozites had a mild flavor and a good texture, the cap being more interesting than the stipe. I had sautéed some of the Rozites in butter the previous evening. The Rozites Tempura was better. The Suillus tomentosus had a stronger flavor and was quite nice, rather nutty. The texture was creamy in the Tempura. A usual complaint about Suillus is that the texture is too soft, but it worked very well as Tempura, the creamy texture a nice complement to the crispy coating. I have dried the rest of the S. tomentosus collection, as I suspect it will be good dried. Both of these were good as Tempura...not as good as the great Russula xerampelina Tempura we cooked up at Yuba Pass...or my favorite, Agaricus augustus Tempura, but a nice meal. And both of these are much better this way than sautéed in butter. Like I always say...if you don't like an edible one way...try it another way. - Mike Wood
Issue 6: A Recipe for Stuffed Portobellos, from Larry Stickney (top)
Many people are not aware that the Portobello is nothing more than the mature cremino (plural: cremini) mushroom, which in turn is simply a brown variant of the commonly cultivated white mushroom. The overgrown mushrooms were often discarded until some forgotten marketing genius started selling them under the name "Portobello" some
time in the '80s. Since then, the heirs to that genius have begun marketing "Baby Portobello" mushrooms at a price significantly higher than their identical cremino twins. Don't be fooled - when given the option, buy the cremini rather than the so-called baby Portobellos.

Stuffed Portobello Mushrooms

8 large Portobello mushrooms
1 Tbs (15 ml) olive oil
2 red bell peppers (capsicum), seeded and finely chopped
2 green bell peppers (capsicum), seeded and finely chopped
1 large onion, finely chopped
3 scallions (spring onions), green and white parts, thinly sliced
5 - 8 cloves garlic (to taste), finely chopped
½ tsp (2 ml) each: dried basil, oregano, and thyme
Salt and freshly ground pepper to taste
6 oz (175 g) goat's cheese (optional)
Additional sliced scallions for garnish.

Remove the stems from the Portobello's, chop and reserve. Place the whole mushroom caps, smooth side down, on a lightly greased baking sheet and bake in a preheated 425F (220C) oven for 15 minutes. Meanwhile, heat the oil in a skillet over moderate heat and sauté the mushroom stems, bell peppers, onion, scallions, and garlic until tender, 8 to 10 minutes. Add the herbs and cook an additional 2 minutes. Spoon the vegetable mixture into the mushroom caps and top with the cheese if desired. Bake an additional 10 minutes, or until the mushrooms are tender and the cheese has melted. Sprinkle with sliced scallions and serve immediately. Serves 4 (2 mushrooms per person).

Bon appétit from the Chef and staff at World Wide Recipes.

- Larry
Issue 8 (1): A Recipe for Morel-Stuffed Baked Potatoes, from Susan French (top)
This recipe was a result of my giving some fresh morels to a friend, Susan French from Santa Ynez, when she was up here visiting her sister in Greenville this spring:
Susie's Morel-Stuffed Baked Potatoes
4 baking potatoes (I usually bake them rubbed with olive oil and dusted with salt and pepper)
1½ c fresh morels, cleaned & finely sliced
1 bunch green onions, minced
1 tbsp. minced garlic
You will also need:
Butter
Olive Oil
Sour Cream
Milk
Sherry
Parsley
Salt & pepper
Grated cheese (Swiss is great)
Bake the potatoes until soft. While they are baking, sauté onions, garlic and morels in 1 tbsp. butter and 1 - 2 tbsp. olive oil until soft, about 10 - 12 minutes. Add about 5 - 6 tbsp. sherry after 5 minutes.
Remove potatoes from oven and cool until you can handle them. Cut in half and scoop out the potato meat. Mash the potatoes and add 1 - 2 tbsp. butter, 3 - 4 tbsp. sour cream. Mix well, adding milk as you need to soften the mixture. Add fresh chopped parsley, about 1 - 2 tbsp., salt & pepper to taste. Stir in the cheese, usually about ½ cup.
Re-stuff the potatoes. Add a small pat of butter on top, lightly cover with foil and bake at 325F for 20 - 25 min. until cheese has melted and potatoes are hot.
Serves 4
And another recipe from a new friend, Paula Reynolds, in New Hampshire
Issue 8 (2): Paula Reynold's Eggplant & Mushroom Lasagna (top)
Serves an army. Or 8 normal people (if you know any).

Do ahead: sauces, cheese mix, prepare vegetables. Boil noodles (which you can oil and store in a plastic bag until you're ready.) I do a lot of this work the day before, or, in the case of the red sauce, even further ahead (it's better after a couple of days anyway.) The cheese mix shouldn't be done too far ahead, because of the raw eggs in it.

Note that amounts of most ingredients are very flexible, to taste. For this reason, this recipe is more of a method than it is a recipe. The only important proportions in this recipe are for the flour/butter/milk in the white sauce.

You could also throw the mozzarella and Parmesan into the cheese mix. Do not throw from a grate (hehehehe!) distance, however, as mozzarella sticks to the floor.

Sauces:

Red sauce:

½ c. olive oil
1 small onion, chopped
5 cloves (1 T.) garlic, minced
1 28-oz. can peeled, ground Italian plum tomatoes
fresh basil – 10 leaves (or 1 t. dried)
fresh oregano (or ½ t. dried)
salt (approx. ½ t.) and pepper (approx. ¼ t.)

Simmer onion & garlic in oil. Do not brown. Add tomatoes, raise heat to bubbling, add seasonings. Cook 20 min., stirring occasionally.

White sauce:

½ stick (4 T.) butter
¼ cup (4 T.) flour
2 c. milk, heated in microwave
a dash of nutmeg
¼ t. salt and a dash of pepper (or to taste)

Melt butter, stir in flour, cook on low heat 2 min. Whisk in the milk (if it's heated, the sauce makes up much faster.) Cook just until thickened.

Stir in seasonings.

You're done. Whew!

If you like a lighter lasagna, cut back on the red sauce (or save some for another meal) make 3 cups of white sauce (using 6T. each butter and flour, and 3 c. milk, a little more seasoning)

Cheeses:

Mix together:

2 pounds ricotta cheese
3 eggs (remove shells unless you have a dietary deficiency)
1 c. chopped fresh parsley (could use 3 T. dried, I suppose, but why?)
a dash of nutmeg

Have ready (quantities VERY approximate. Use more or less to taste):

1 c. shredded mozzarella
½ c. freshly grated Parmesan or Romano

The Vegetables and Pasta:

½ pound of lasagna noodles (I use just 9 noodles, for 3 layers), boiled until al dente. You can use more noodles, less vegetable matter if you like.

Eggplant (1 medium). Peel, slice ¼ inch thick, brush with olive oil and sauté 'til browned. You can salt the eggplant to remove much of its moisture and minimize the amount oil it will absorb in sautéing. You could broil the eggplant if you prefer.

Mushroom(s), 1 giant puffball sliced ¼ inch thick, brushed with olive oil and sautéed 'til browned. Or however many smaller 'shrooms you feel like using. You could easily use a pound of them, or even more. If you don't have many, use proportionately more eggplant.

Putting it all together:

Slather a layer of tomato sauce in the bottom of an 11" x 17" x 2" (or similar size) baking dish. Then layer noodles, eggplant and mushrooms, cheese mixture, sauces and grated cheese as you wish. End with a covering of red sauce, a wide stripe of white sauce down the middle. Sprinkle cheeses on top. Bake in preheated 325F oven until bubbling hot, about an hour. Or undercook, freeze all or part, and finish cooking later.

When finished, spend two days washing all the dishes you've created!

- Paula
Issue 10: A Recipe using Candy Caps (Lactarius fragilis) from Irma Brandt (top)
The following recipe is from another fellow MSSFer, Irma Brandt:
I make a really nice rice dish using the fresh candy caps that I usually serve along with Cornish game hen...or the wild game dishes that Mike Wood likes. But the rice dish is quite substantial and delicious all by itself ....and while you don't eat meat, you might eat the Cornish game hen....

I cook up a batch of wild rice and a batch of white basmati rice as well (portions depending on how much you want to serve or have for leftovers. I like the wild rice for crunchiness and the white rice for color contrast .

My ingredients are -

rice
chopped pecans
shallots, diced
sweet butter
grape seed oil
chicken stock
kosher salt
fresh sage, chopped (I think the sage really compliments the candy caps... other options might be thyme, marjoram or any other herb you prefer)
brandy
butternut squash soup (the one that comes in a carton sold at Trader Joe's) - these various soups that come in the cartons are great recipe enhancers)

oh yeah....I almost forgot the most important ingredient... the candycaps......I use just the caps... save the stems for drying for other recipes.

Toast the pecans and set aside. Melt the butter, add the grape seed oil so butter doesn't burn, gently sauté shallots, add the candy caps (if the caps are small it's nice to leave them whole so they are recognizable... if real big, cut them in half or quarters)... add just a touch of chicken stock if more liquid is needed... add your rice and a bit more chicken stock to your sauté, add butternut squash soup (just enough to make a nice rich mixture - not too liquidy), sage, chopped pecans and salt to taste... after a few more minutes of sautéing to incorporate all ingredients add a splash of brandy... let sauté a little longer to blend all the flavors. Serve a heaping mound of this and top with Cornish game hen if you like.

A wonderful vege topping is a sauté of carrots, celery and green beans.....yep...the glorification of celery and carrots.... make long, thin curls of carrots using a potato peeler.....julienne long, thin strips of celery....and slice green beans in long thin strips........do a sauté of this using butter, oil, shallots, thyme or marjoram, salt and a little soy sauce....put the green beans in first cause they take the longest to soften, add carrots and celery and gently sauté until celery is just wilted........and top your candy cap rice with this.......

Happy cooking and if you have 'shroom for one more, let me know 8~)

Cheers,
Irma
Issue 11: A Recipe using Helvella lacunosa from Bill Tomlin (top)
The following came from an email message from my friend in Santa Barbara, Bill Tomlin, is response to my April 16 posting about having found a batch of them:
You mentioned finding some Helvella lacunosae recently, I love those little cuties! It has been a couple of years since I came upon a batch but I recall that I made a fine omelet with them, shredded Irish cheese from Trader Joes, shallot, and a half pinch of cayenne pepper. I used about 1/3 pound of them in the 3-egg omelet; it was Great!

- Have fun, Bill
When I tried the recipe, I had to use chopped green onions instead of the shallots, a big pinch of cayenne, herbed Feta cheese, and added a small amount of sour cream on the top when I served it on a piece of toast.
It still tasted Great!
I feel that this would also be a good recipe for using Gyromitra montana (Snow Mushrooms), Discina perlata, Geopora cooperi (Fuzzy Truffles), (none of which I have other recipes) and of course, morels.
Issue 16: Recipe for Heavenly Morel Tarts (top)
We were sent this recipe this spring, served it some friends, and we all liked it very much:
Heavenly Morel Tarts
Source: Midwest Living http://www.bhg.com
Makes about 16 appetizers.
Prep: 30 minutes. Bake: 20 minutes
Ingredients:

1 8-ounce package cream cheese, softened
½-cup butter or margarine
1½ cups all-purpose flour
8 ounces fresh morel, button, or other mushrooms (except enoki)
¾-cup chopped onion
3 tablespoons butter or margarine
¼-cup dairy sour cream
2 tablespoons all-purpose flour
¼-teaspoon salt
1/8-teaspoon dried orange peel (optional)
1/8-teaspoon dried marjoram, crushed
1/8-teaspoon dried rosemary, crushed
1 beaten egg

Directions:

For pastry, in a mixing bowl, beat together cream cheese and the ½-cup butter or margarine with an electric mixer until smooth. Add the 1½ cups flour and beat at low speed until combined, forming stiff dough (or combine cream cheese and the ½-cup butter or margarine in a food processor bowl until smooth. Add the 1½ cups flour and process until a stiff dough forms.) Cover; chill for at least 1 hour.
Meanwhile, clean morel mushrooms. Drain thoroughly; pat dry with paper towels. Chop the morel, button, or other mushrooms (you should have 3 cups).
For filling, in a large skillet, cook onion in the 3 tablespoons butter or margarine until tender. Add mushrooms; cook and stir over medium-high heat for 2 to 3 minutes or until liquid is nearly evaporated. Remove from heat.
In a bowl, stir together sour cream, the 2 tablespoons flour, the salt, orange peel (if you like), marjoram, and rosemary until combined. Stir into mushroom mixture.
On a lightly floured surface, roll dough to 1/8-inch thickness. Cut into 3-inch circles. Using small cutters, make cutouts in the centers of half of the rounds or cut a slit in half of the rounds to let the steam escape during baking.
Place circles without cutouts on an un-greased baking sheet. Place about 1 tablespoon of the filling in the center of each. Moisten edges of filled pastry with water; add the remaining circles with cutouts or slits. Crimp edges together with a fork. Brush tops with beaten egg.
Bake in a 350 degree F oven for about 20 minutes or until pastry is golden brown.

Serve warm. Makes about 16 appetizers.
Issue 18: A Recipe for Porcini Hash Browns, from Herman Brown (top)
This is one of the things that we found works pretty good with small Spring King buttons:
Porcini Hash Browns

Porcini Buttons
Red Potatoes
salt and pepper to taste
butter to fry the hash browns

Shred the buttons and mix with an equal amount of shredded potatoes. Using a large skillet, spread the mixture very thin and cook over a medium flame until the bottom is browned. Flip the hash browns and continue to cook until the bottom is also brown.

I broke an egg over the cooked hash browns, folded the hash browns over the egg, and continued cooking until the egg was done.
Issue 19: Recipe for Mock Fried Abalone, from Herman Brown (top)
We found a few Lentinus ponderosus this summer, and I was determined to try them in a palatable dish.
I had just had some fried red abalone that our friend, Hugh Smith, had brought us the same day, and I thought cooking the mushrooms the same way might work with the Lentinus. The results were pretty good, and although they couldn't quite compete with the real thing, they were tasty and tender. The same recipe might work just as well with large oyster mushrooms.
This is what we came up with:
Mock Fried Abalone

Fresh Lentinus ponderosus (or large Oyster Mushrooms)
Clam juice
Panko Japanese breading
1 egg, lightly beaten
Cooking oil

Fill frying pan with about ¼-inch of oil and heat the oil. Slice the mushrooms 1/4" thick and soak for a few minutes in clam juice. Remove the mushrooms, drain, and dip in the egg. Roll them in the bread crumbs and place in the frying pan. Cook until slightly browned.

Drain and enjoy!
Issue 20: A Recipe for Morels, from Sam Longmire (top)
Wash and slice morels.

Smash up Joe's O's (from Trader Joe's -- almost like Cheerios, but perhaps nuttier -- not sweet) in a plastic bag.

Beat an egg (or eggs).

Dip morels in egg and then Joe's O's crumbs.

Fry in skillet with butter and/or olive oil (butter/oil should be hot before adding morels).Add salt while frying, and more butter if desired. Serve hot.
Issue 21: (1) A Recipe for Marinating Shiitakes, from Sam Longmire (top)
I've been experimenting for a few years with marinades for grilling my shiitakes, which are now fruiting abundantly in Nevada County (in my Shiitake log). I have settled on the following as a superb combination:

2 parts soy sauce
1 part olive oil (or melted butter)
1 part balsamic vinegar
1 part (or less) red wine

Additional salt, parsley, basil and garlic are optional.

I'm sure this would be good on some other kinds of mushrooms, too.
Issue 21 (2) Preparing Chicken-of-the-Woods, from Sam Longmire (top)
I usually trim the tender margins and leave the rest in place. By "tender," I mean tender enough to easily slice with a credit card (actually, I prefer a knife but sometimes use my library card, which is thinner than a credit card).

My usual cooking method is to slice the "chicken" thin, put nearly a half inch of water in the pan along with butter, and cook it down in that first, which I think tenderizes it. Then, when the water is almost gone (perhaps 10-15 minutes), I add garlic, salt, and whatever spices I want and let it simmer in the butter until golden-brown areas appear and it seems done. Alternatively, I remove it slightly earlier, make a sauce in that same pan (to capture the flavor and avoid dirtying another pan), and then add it back in to finish cooking in the sauce. Sherry-cream sauce is a great choice.

By the way, honey mushrooms are also excellent cooked the same way and then added to a sherry-cream sauce.
Issue 22 (1): Recipes for Gyromitra montana, from John-Marc Ventimiglia (top)
If you are ever game to try cooking with Gyromitra montana or Discina perlata, with the usual cautions of course, the following recipe might even make it a special treat.

Cecelia made the recipe shortly after we received it, and I want to say that it was wonderful, even though she forgot to add the truffle oil.

We served just the sauce, at a BAMS foray potluck and got several raves.

Regarding cooking with Gyromitra montana:

My absolute fav is cooked in garlic, shallots and butter, cooled then tossed in crème fraîche (or sour cream) and served in a toasted parmesan basket with a drizzle of white truffle oil. Of course, they go great with all sorts of game meats as well.

I also enjoy the discinas.

Well, this way you can hopefully feel better about eating them. I am still cautious as to geographic location and would think three times before eating them from anywhere but my stash.

And here is his recipe below, which could be used with many other mushrooms as well:
Issue 22 (2) JMV's Gyromitra Parm Baskets, from John-Marc Ventimiglia (top)
If using Gyromitra montana, it is best to roast them in a 350 degree oven for 20 minutes first

½ cup chopped Gyromitra montana or Black Morels
1 clove chopped garlic
1 tsp chopped shallots

Sauté ingredients on medium high heat in olive oil until very dry

Turn off flame and add € tsp cold butter and stir it in to let it melt.

Cool mixture to about 80-90 degrees and add in créme fraîche and salt to taste. A touch of cayenne is optional.

Serve in toasted Parmesan cheese baskets, make a small indentation in the mix and add a few drops of high quality white truffle oil.

Parm Baskets

There is an excellent recipe in the 'French Laundry' cookbook.

Grate parmesan (about ½ cup) using an inexpensive younger parm. A bit more moisture helps.

Place one inch round mounds on silpat or parchment paper and place in 300 degree oven for 10 -15 minutes until golden brown.

Use a miniature muffin tin and with a spatula, place the flat parm circle over a muffin holder, and press down with a wine cork to form a basket. The cheese hardens fast, so this should be a quick process.

Baskets can be made ahead of time and stored in the open.

Alternate recipe: http://www.recipezaar.com/100637
Issue 22 (3): Cooking with Gomphus clavatus, from John-Marc Ventimiglia (top)
As long as I am on a roll, I have taken quite a liking to Gomphus clavatus.

While quite mild in flavor, the texture is exceptional IMO.

I sauté 1 part raw diced artichoke hearts with 1 part gomphus, garlic of course, and a pinch of tarragon, and S&P or chipotle powder in place of the pepper, in 3 parts olive oil, 1 part butter.

I usually start the artichokes first and add the rest 3 - 5 minutes later.

The combination of artichoke and the gomphus is subtle
Issue 22 (4): A Recipe for Morelly-Stuffed Morels, from James Edmonds (top)
I just made up a new recipe last night that worked out pretty good.
Stuffing:
1 handful of crushed Crackers (I like garlic and herb).
Make sure the bits are small enough to fit down the hollow insides of the mushroom.
1 handful of finely minced Pecans
1 hand full of finely minced Green Onion
1 handful of 2 - 3 different cheeses grated fine
4 - 5 pinches of Tuscan Salt
A pinch of pepper, whatever kind you like.

This is most important! When preparing the Morels, cut the stems off and mince up fine, the stems only, and put them into the stuffing. Mix all this up.

Take a large bowl with a flat bottom and fill it with finely crushed crackers, I sometimes sift it through a meshed metal strainer to get out the big chunks (unless you like chunks!).

Beat up 4 - 5 eggs in a separate bowl.

Carefully stuff the Morels, use a chop stick for ones with long or narrow openings. Pack them good but take care not to make them split open.

In a small iron skillet, heat up some butter with a dash of Olive oil. If you are more gourmet, use Duck fat.

Take the stuffed Morels and roll them around in the eggs until covered then drop them into the bowl with the crushed crackers and roll them around in that until thoroughly coated. Take these and place them in the skillet, turn them over often until golden brown on all sides.
Issue 27: Makin' Bacon with Mushrooms, submitted by David Rust (top)
David Rust had posted a site with a link to a technique for roasting thinly sliced shitakes with spices, that resulted in something close in taste and texture to bacon. In a reply, Anna Moore posted her own special recipe using other mushrooms, and I asked if I could include it with this issue of fungi-zette:
Sure. I taught this to the group on the Alaska trip (hughsmith.org/forays-bz.htm) and they loved it. SOMA published it in the Sept or Oct newsletter.

I started using this (recipe) with lobster mushrooms and then found it was great for boletes. I imagine it will work for others, too. I tell people to use the seasoning they like on popcorn. My garlic pepper is an Oregon special one with lots of dried veggies. The fishermen on the Alaska trip used Tony Chachere's Creole seasoning.

I think, but haven't tried it, you could take dried boletes, slightly rehydrate and turn them into chips with a shorter cooking time.

Recipe:

This is very similar to the bolete chips or lobster chips I've been touting.

Slice mushrooms about ¼ inch thick, place on oiled cookie sheet, sprinkle with olive oil, salt and seasoning (I use garlic pepper) and bake at about 350 degrees until crispy, turning a few times. It takes about an hour. You can reduce the heat towards the end of baking to keep the chips from burning. They give off a lot of water. Store leftovers in the refrigerator or freezer and recrisp in toaster oven before serving

- Anna Moore
Issue 32 (1): A recipe for Chanterelles, from Mike McCurdy (top)
I had received the following message from Mike McCurdy in regards to a batch of white and golden chanterelles he had just found:
I may change my mind about chanterelles. Tonight we sautéed the chanterelles with spinach and a little onion. The chanterelle flavor came through! The whole family liked it.
So, after seeing his attached picture, I asked him if he would share his recipe:
Happy to try, but I cook by feel. The one measurement I know is that we used about 12 oz of fresh spinach, which fed 4 comfortably.

The chanterelle were cut thinly and sautéed with some diced onions, sliced garlic, and salt and pepper, in a little butter and grape seed oil until they had some color. In a separate pan the spinach was cooked down a bit - just a couple of minutes - with a little chicken stock until the stock reduced to nothing. Probably less then a quarter cup of chicken stock - maybe 2 or 3 tablespoons for the spinach. Just a little something to get the juices working.

Add the chanterelles.

If you need to do it fat-free, the chanterelle, garlic, and onions could be cooked in a little stock instead adding the spinach at the very end since it doesn't take long to cook. I can't tell you how much chanterelle, but you want a fair amount.

Mike
We tried Mike's recipe, probably adding too many chanterelles, but is WAS very tasty. The spinach did seem to enhance the flavor of the chanterelles.
Issue 32 (2): Save those (porcini) tubes!, from Irma Brandt (top)
Herman......

For years I tossed the tubes away........then I learned a chef's secret ......... they are the most flavorable part of the porcini.....if you dehydrate the tubes and then grind them in a coffee grinder (or something similar) they make an excellent flavoring agent when cooking/baking dishes where you want the porcini flavor enhanced (you can use with or without the rest of the mushroom)........also, if you have empty reusable shakers from other spices, fill them up and give them as gifts.

Irma